Celebrant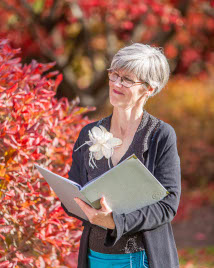 &nbsp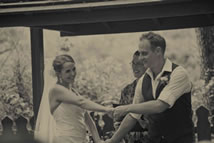 Mel and Simon's wedding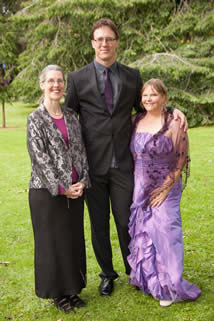 Philippa with Kyle and Gaynor who were married at Chingford Park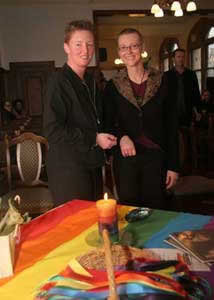 Barb and Tor at their civil union and celebration of their children
A registered celebrant since 2005, I perform weddings, civil unions, funerals, naming ceremonies, house blessings and more, mainly in the Dunedin area.
Whatever you want to celebrate, I can help you create a meaningful and memorable ceremony. I love working with clients to craft something unique that reflects your values, personalities and spirituality.
I enjoy working with people from different cultures and have had clients of Pakeha, Maori, Samoan, Japanese, Vietnamese, Malaysian Chinese, Jewish, Greek, German, English, Scottish, Spanish, Australian, Canadian and American origin. My love of languages has been helpful in pronouncing people's names, and I have conducted bilingual ceremonies in English/Japanese and English/German.
I am a member of Celebrants Aotearoa (the Celebrants Association of NZ), and abide by their code of ethics.
Feel free to ring me on (03) 473 9293 to ask any questions, or .
Testimonials
"From the minute we asked Philippa to be our marriage celebrant we were highly impressed with her genuine and professional approach. Philippa took the time to listen, and to understand, what was important to us for our wedding day. Philippa exceeded all of our expectations in a celebrant. She facilitated a beautiful ceremony for us, it was exactly what we were looking for, and we highly recommend her services to any couple looking for a personalised and dedicated approach to the planning and facilitation of their wedding ceremony."
Aimee and Leighton, Sydney
"Thanks again for all of your help and time with our wedding. We know it was your job but your help, time and patience was greatly appreciated. We had great feedback from everyone at our wedding about all our little details. You were formal but not over the top and you fit with our style. We had a brilliant day and we both enjoyed every moment of it."
Chanelle and Gareth, Dunedin
"Huge thanks for making our recent Big Day so special. We really appreciate all that you did for us. Your care and your friendliness to us – and to our family and friends."
John & Allan, Palmerston North
"Thank you so so much. You were amazing. You will always be in our hearts and our lives, as the person who married us. As I think you guessed, we were very very happy, and we haven't stopped grinning yet. It was very special for us."
Ken and Ros, Wellington
"Thank you so much for the amazing wedding you helped us create. The ceremony was just perfect and we both feel honoured that you led our ceremony for us. We had a wonderful day and are really glad you were our celebrant."
Simon and Mel, Dunedin
"Thank you so much for the wonderful job you did of our wedding! We felt it was perfect and have received many good comments. We couldn't have asked for a better celebrant, and are very pleased we could have you."
Anna and Em, Invercargill
"Thank you so much for everything you did to ensure our wedding was a success. We have had so many positive comments about our ceremony and you had an integral role in the creation of it so thank you for all of your support and guidance. You maintained a calm, warm and welcoming demeanour throughout, which we really appreciated!"
Samantha and Luke, Dunedin
"When we were planning our civil union and celebration of our children in 2005 Philippa was the obvious choice, as we already knew her. What we didn't know is how valuable her role would be in making our day of celebration so memorable. She gently guided us along the planning path, making some suggestions for things we had forgotten or not thought about. On the day her welcoming presence and communication skills made everyone feel comfortable and part of the event, which was what we wanted."
Barb Long & Tor Devereux, Dunedin
All nature photos on this website © Philippa Jamieson