Writer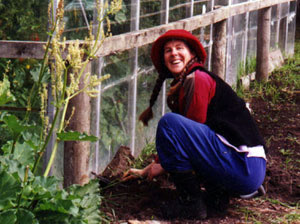 I'm a freelance writer and photographer, covering a diversity of subjects including organic farming and gardening, sustainable living, environmental issues, genetic engineering, natural health, travel, profiles and book reviews.
My work has appeared in Organic NZ, New Zealand Herald, Sunday Star Times, Good, The Press, Listener, Dominion Post, Otago Daily Times, Otago Gaily Times, Express, Healthy Options, Eco Living, Oz Positive (Australia), Well Being Journal (USA) and HopeDance (USA).
My book
In 2007 New Holland published my first book:
The Wild Green Yonder: Ten seasons volunteering on New Zealand's organic farms.
This chronicles my experiences of wwoofing – working as a volunteer on organic farms – all around New Zealand from 2002 to 2004.
This Kiwi wwoofing adventure is filled with quirky characters, frisky animals and practical information about organic growing.
or phone me on 03 473 9293 or 027 547 3929.
Check out The Wild Green Yonder Facebook page »

All nature photos on this website © Philippa Jamieson